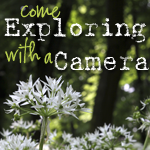 Just the word silhouettes makes me think of first grade, when my teacher created paper silhouettes of each of us and taped them to our desks. Then we had this open house event where the parents came to see our school room where we proudly displayed our artwork. Fast forward fifty years now….
Along with Kat Sloma and several other photographers we are now exploring silhouettes that we create with our cameras, and some of the same basic light principles apply. Click on the linky above to go to her website and see some other examples. Kat has a
great article
there about how to capture a silhouette and then use it effectively.
I have gone through my archives, some from the past two weeks, and some going back a year or two, and found some examples to share.
In this instance the fog created a bright light in contrast to the trees at the park recently. This big contrast between the subject (trees) and the background (foggy sky) makes the tree on the left really stand out.
A local garden center, closed for a long time now and in disrepair…the arched doorways here create a kind of silhouette frame for the building in the background.
Last summer I stood in the shade of a tree and faced the sun, capturing the lovely green foliage as well as the silhouette of the tree on the left.
The fisherman on the right adds scale to this image of the reservoir on a summer evening. I adjusted the contrast to make the man appear more in shadow than he really was.
On Lake Erie, actually at Lakeside, we witnessed this lovely sunset. In the foreground, silhouetted against the water, are several other sun worshipers enjoying the view.
After writing this and going through files of digital images, I'm ready to go exploring with my camera in search of more silhouettes. Plus…now that I have typed that word so many times I think I can remember how to spell it!
Thanks for stopping by!